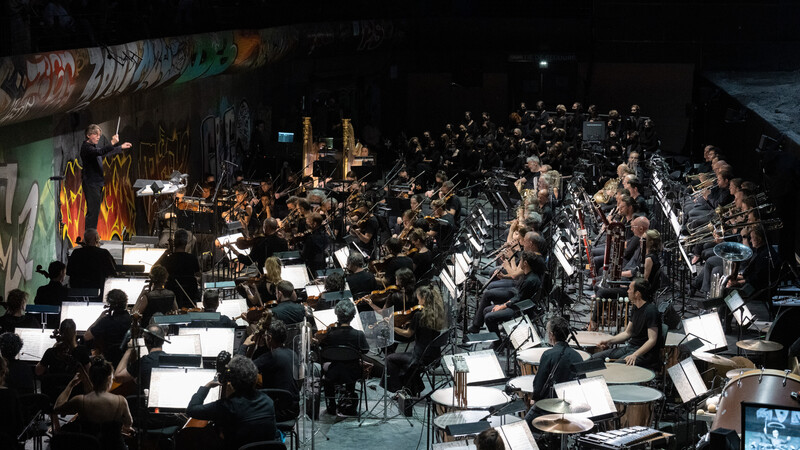 Resurrection by Gustav Mahler
conductor Esa-Pekka Salonen — stage director Romeo Castellucci
Capture date July 13, 2022
Language in German
A co-production Festival d'Aix-en-Provence, Abu Dhabi Festival , Philharmonie de Paris
Realisation Philippe Beziat
Production CAMERA LUCIDA PRODUCTIONS
Video available for replay until Thursday 16 January 2025
Photo © Monika Rittershaus
To celebrate the 75th anniversary of the Festival d'Aix-en-Provence, Arte — a media partner of the Festival — is offering you the chance to (re-)discover the leading productions of recent Festivals. Be sure to watch Strauss' Elektra, conducted by Esa-Pekka Salonen and staged by Patrice Chéreau; Mahler's Resurrection, conducted by Esa-Pekka Salonen and staged by Romeo Castellucci; Mozart's Idomeneo, Re di Creta, conducted by Raphaël Pichon and staged by Satoshi Miyagi; Rossini's Moses and Pharaoh, conducted by Michele Mariotti and staged by Tobias Kratzer; and Kaija Saariaho's Innocence, which received a standing ovation at the 2021 Festival d'Aix-en-Provence, conducted by Susanna Mälkki and staged by Simon Stone.
SYMPHONY No.2 "RESURRECTION" IN UT MINOR FOR SOPRANO, ALTO, MIXED CHORUS AND ORCHESTRA IN FIVE MOVEMENTS
FIRST PERFORMED ON 13 DECEMBER 1895 IN BERLIN
NEW PRODUCTION OF THE FESTIVAL D'AIX-EN-PROVENCE
IN COPRODUCTION WITH ABU DHABI FESTIVAL AND PHILHARMONIE DE PARIS, LA VILLETTE – PARIS
— WITH THE SUPPORT OF MADAME ALINE FORIEL-DESTEZET, GRANDE DONATRICE D'EXCEPTION DU FESTIVAL D'AIX-EN-PROVENCE
WITH THE SUPPORT OF CERCLE INCISES POUR LA CRÉATION CONTEMPORAINE
AND OF MAJA HOFFMANN / LUMA FOUNDATION
Conductor
Esa-Pekka Salonen
Stage director, Stage, costume and lighting designer
Romeo Castellucci
Dramaturgy
Piersandra Di Matteo
Conductor's Assistant
Aliisa Neige Barrière
Stage Director Collaborator
Filippo Ferraresi
Set Design Artistic Collaborator
Alessio Valmori
Lighting Artistic Collaborator
Marco Giusti
Stage Sculpture Construction
Giovanna Amoroso et Istvan Zimmermann
Actors
Maïlys Castets, Simone Gatti, Michelle Salvatore, Raphaël Sawadogo-Mas
Extras
Isabelle Arnoux, Matthieu Baquey, Andrea Barki, Bernard Di Domenico, Jean-Marc Fillet, Emma Hernandez, Romain Lunitier, Sarah Namata, Francis Vincenty, Emile Yebdri
Chorus
Chœur de l'Orchestre de Paris, Jeune Chœur de Paris
Vocal Coach
Marc Korovitch
Orchestra
Orchestre de Paris
Construction des sculptures de scène
Giovanna Amoroso et Istvan Zimmermann
The whole thing sounds as though it came to us from another world. I think there is no one who can resist it.

Gustav Mahler, after listening to his Symphony No. 2 "Resurrection" on 13 December 1895
Resurrection forms a diptych with Requiem (2019) – a striking meditation on the exhaustion and disappearance of all things – and takes up in a spectacular way the question of the aftermath: the question of a hypothetical renewal. The Stadium de Vitrolles designed by Rudy Ricciotti has been preserved in a state of beauty ravaged by twenty-five years of abandonment and clandestine occupations. Inside this iconic building Romeo Castellucci tackles the enigma of a mysterious rebirth. Resurrection is undoubtedly the most popular of all Mahler's symphonies. The composer stages a gradual victory over his doubts and asserts his creative vocation and his newfound faith in the cosmos. The audience is immediately struck by the opening chaos orchestrating a magnificent funeral. The sublime final chorus enraptures listeners as it celebrates the Last Judgement and the divine love that is spread everywhere. Esa-Pekka Salonen returns to the Orchestre de Paris and its Chorus and dreams with us of rising out of hard times. Golda Schultz and Marianne Crebassa make their Festival debut.
LE MONDE
[…] à la tête d'un Orchestre de Paris des grands soirs, Esa-Pekka Salonen aura filé droit le Scherzo, écrit à partir de lied tiré des Knaben Wunderhorn, qui relate le prêche inutile de saint Antoine de Padoue aux poissons. Portée par la voix sublimement charnelle de Marianne Crebassa, l'arrivée du Urlicht (Lumière originelle) est comme une ouverture sur l'espoir. Le regard se détourne du sol, interroge le ciel. Sur le plateau, morts boueux habillés de blanc et vivants maculés de terre partagent le même espace mental d'une résurrection sans la transcendance, que portera désormais la musique.
 
LIBÉRATION
Au Festival d'Aix, un Castellucci sans fausse note.
Plus humaniste et moins calibrée que d'autres mises en scène du provocateur italien, Résurrection juxtapose la mise au jour d'un charnier géant et la Symphonie n°2 de Mahler, interprétée avec fougue par l'Orchestre de Paris.
La symétrie est parfaite, et le mécanisme redoutable, qui enjoint un spectateur nécessairement impressionné à constater la superposition de deux communs – celui de la fosse scénique, et celui de la fosse d'orchestre – qui pose une équivalence terrifiante : l'identification possible entre la masse de cadavres, et la masse des musiciens en dessous.
 
LEFIGARO.FR
Art lyrique : à Aix-en-Provence, une vraie ouverture de festival.
Hourras pour chef, orchestre, chœurs et solistes, huées pour le metteur en scène, mais surtout un public perplexe et sonné, qui ne sait pas très bien ce qu'il a vu : c'est exactement pour cela que l'on va dans un festival, pour être dérouté par une proposition singulière que l'on ne verrait nulle part ailleurs.
 
SCENEWEB
Après avoir monté un Requiem de Mozart pensé paradoxalement comme une célébration de la vie où s'exaltaient les couleurs, la jeunesse et la danse, sa Résurrection qui devrait appeler à chanter non sans inquiétudes le renouveau, prend les traits d'une forme scénique jamais décorative et d'une intensité crue où se joue une fouille macabre qui invite à la contemplation, longue jusqu'à l'insoutenable, de la mort et de l'inexorable.
 
BACHTRACK
Après son Requiem aixois de 2019, et à l'heure du kitsch triomphant à l'opéra, Castellucci nous surprend cette fois-ci par son épure et donc l'humilité du geste, offrant aux spectateurs d'entendre la musique. Salonen nous saisit par son écoute de la scène et une prise de risque artistique dans l'interprétation qui force l'admiration. Loin de tout romantisme, nous est rappelé avec force combien l'art vivant reste la traversée d'une expérience à vivre, jusques et y compris dans la mort, en toute humanité, et non un objet consommable le temps d'une divertissante soirée.
 
LUXEMBURGER WORT
Et la musique ? Elle est somptueuse évidemment, et particulièrement mise en valeur grâce à la disposition de la salle […].
 
LA PROVENCE
Auréolée de mystère, la dernière création de Romeo Castellucci, la version scénique de la Symphonie n°2, Résurrection de Gustav Mahler, s'y est révélée, dans sa noirceur totale.
Les images sont fortes, hypnotiques […].
L'Orchestre de Paris, dirigé par Esa-Pekka Salonen, semble lutter pour reprendre la main, emmenant les chœurs et les magnifiques Golda Schultz et Marianne Crebassa dans son tourbillon d'émotions contraires.
 
LA MARSEILLAISE
On ne peut […] que saluer la prestation incandescente du Chœur et de l'Orchestre de Paris et de la direction magistrale du Chef Esa-Pekka Salonen.
Les voix de la soprano Golda Schultz et de l'alto Marianne Crebassa résonnent alors avec une force quasi-religieuse, comme une suspension céleste au-dessus du monde terreux.