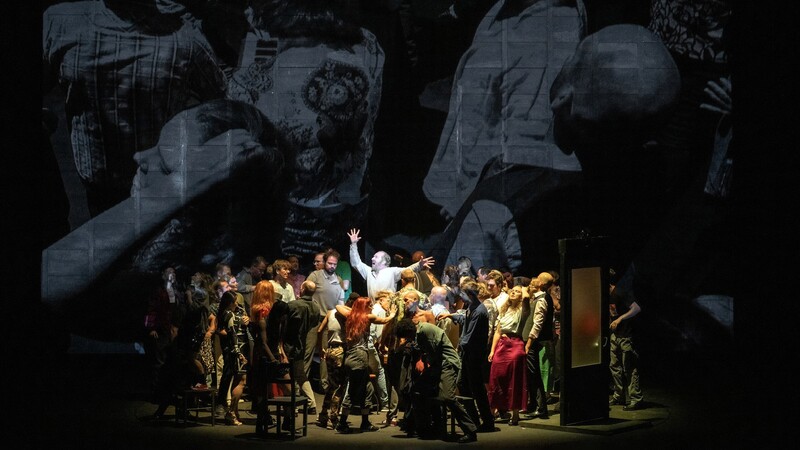 WOZZECK BY ALBAN BERG
CONDUCTOR SIR SIMON RATTLE — STAGE DIRECTOR SIMON MCBURNEY
Recording Date 13 July 2023
Languages Sung in German with French subtitles
Realisation François Roussillon
Co-production ARTE France, Fraprod
Video available for replay until Wednesday 17 July 2024
Photo © Monika Rittershaus
OPERA IN THREE ACTS
LIBRETTO BY THE COMPOSER BASED ON THE DRAMA WOYZECK (1836) BY GEORG BÜCHNER
FIRST PERFORMED ON 14 DECEMBER 1925 AT THE STAATSOPER UNTER DEN LINDEN, BERLIN
NEW PRODUCTION FESTIVAL D'AIX-EN-PROVENCE
— WITH THE SUPPORT OF MADAME ALINE FORIEL-DESTEZET, GRANDE MÉCÈNE D'EXCEPTION DES 75 ANS DU FESTIVAL D'AIX-EN-PROVENCE
Conductor
Sir Simon Rattle
Stage director
Simon McBurney
Set design
Miriam Buether
Costume design
Christina Cunningham
Lighting design
Paul Anderson
Choreography, collaboration to the stage direction
Leah Hausman
Dramaturgy
Gerard McBurney
Collaboration to the stage direction
Sasha Milavic-Davies
Conductor's assistant, pianino on stage
Levi Hammer
Vocal coaches
Markus Appelt, David Zobel
Set design assistant
Clémence de Vergnette
Costume assistant
Louise Watts
Video assistant
Nathan Fernée
Wozzeck
Christian Gerhaher
Tambourmajor
Thomas Blondelle
Hauptmann, Der Narr
Peter Hoare
1.Handwerksbursch
Matthieu Toulouse
2.Handwerksbursch
Tomasz Kumięga*
Mariens Knabe
Gabriele Cuggia
Ein Soldat
Danila Frantou
Actors
Aquira Amoy Bailey-Browne, Jorge Arbert, Karl William Fagerlund Brekke, Chihiro Kawasaki, Clive Mendus, Soufiane Naïm Guerraoui, Faith Prendergast, Vinicius Salles, Gabriella Schmidt, Afra Waldhor
Choir
Estonian Philharmonic Chamber Choir
Choir coach
Lodewijk van der Ree
Children's choir
Maîtrise des Bouches-du-Rhône
Children's choir coach
Samuel Coquard
Orchestra
London Symphony Orchestra
*Former artists of the Académie
The audience is struck by an act of continuity in violence, continuity in division and continuity in vision: with all that lies behind the dream, as if the pit of the mind had opened up.

Pierre Jean Jouve and Michel Fano, Wozzeck d'Alban Berg (1964)
Wozzeck is a typical example of the poor humanity of modern times: a brave soldier, scapegoat of a whole social system, who kills his mistress out of jealousy and then commits suicide. The Romantic playwright Büchner painted this vivid portrait in the early days of industrialisation: a relentless movement of objectification of beings that culminates in the mass grave of the First World War – of which Berg's opera is, in its own way, the posttraumatic echo, as much as it prophesies the world to come. For his third time at the Festival, Simon McBurney captures Wozzeck's last minute, the moment when he drowns, and makes it a spectacular externalisation of his tormented psyche, as well as a grotesque recollection of his obsessions. Sir Simon Rattle will conduct the London Symphony Orchestra and a first-rate cast; Christian Gerhaher brings all his Liedersänger skills
in a subtle and heart-rending incarnation of the title role as a myth of our time.
— FINANCIAL TIMES
Simon McBurney stages a brilliant, shattering Wozzeck at Aix Festival
— LE TEMPS
L'artiste britannique Simon McBurney révèle la noirceur de l'opéra d'Alban Berg dans une mise en scène époustouflante. Un temps fort du Festival
— EL PAÍS
La perfección en ópera sí existe, aunque raras veces se disfrute, y así acaba de demostrarlo el gran director británico con una puesta en escena virtualmente perfecta de la desasosegante obra maestra de Alban Ber
— DIE SÜDDEUTSCHE ZEITUNG
George Benjamins grandiose Oper "Picture a day like this" und Simon McBurneys artistischer "Wozzeck": Die Opernfestspiele in Aix-en-Provence zeigen Wundervolles.
— LE MONDE
Simon McBurney offre au chef-d'œuvre de Berg une magistrale entrée au répertoire, magnifiée par une luxueuse distribution vocale et le chef d'orchestre Simon Rattle à la tête d'un London Symphony Orchestra, époustouflant.
— LE FIGARO
Dirigé par Simon Rattle et mis en scène par Simon McBurney, l'œuvre d'Alban Berg se décline au plus que parfait.
— L'HUMANITÉ
Ce Wozzeck est un moment majeur de l'histoire de l'opéra, et pas seulement d'Aix-en-Provence.
— LES ÉCHOS
Simon Rattle dirige la complexe musique d'Alban Berg avec le raffinement qu'elle requiert mais aussi avec la générosité expressive d'une symphonie de Mahler. L'Orchestre symphonique de Londres ne se montre jamais avare de nuances et de couleurs et participe activement à l'écriture de ce « poème à la fois intemporel et d'actualité » comme le définit McBurney.
— TÉLÉRAMA
Au Festival d'Aix-en-Provence, un "Wozzeck" triplement enchanteur
De bonnes fées se sont penchées sur le chef-d'œuvre d'Alban Berg, monté pour la première fois à Aix : la prestation du baryton Christian Gerhaher, bien entouré, la direction musicale de Simon Rattle et la mise en scène de Simon McBurney font de cette production une réussite totale
— OLYRIX
La nouvelle mise en scène in loco de Simon McBurney est à nouveau puissante : sobre et picturale, réaliste et symbolique. [...] La direction de Sir Simon Rattle, à la tête du London Symphony Orchestra, aborde la partition avec une précision de grand horloger.
— RESMUSICA
Véritable défi que Simon McBurney relève avec un brio confondant, en parfait accord avec le livret, aidé en cela, par la puissance expressive de la musique.